A field covered in darkness you say?
Actually, that's right next door.
Mulbruk think there's a way to make it bright, but it's difficult.
First you have to solve the riddle of the God of the Light in the Chamber of Birth,
then there will be a change in the Chamber of Extinction.
It's still far ahead.
Be patient and don't be hasty!
--Mulbruk
The Chamber of Extinction field normally has no light. It can be temporarily lit by hitting a blue square torch with the Flare Gun.
After collecting the Plane Model in the Tower of the Goddess and the Life Seal, the area can be permanently lit:
Break the top-right wall and destroy the Life Wall Seal in Chamber of Birth (H-3).
This resets the puzzle you earlier did to obtain the Life Seal, causing the Birth Wall Seal at Chamber of Extinction (F-5) to activate again.
Enter the maze again from (H-5). There is a pit immediately inside the wall! Jump left into (G-5).
Navigate through the wall maze to (F-5).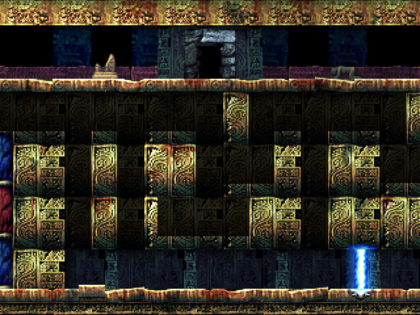 Community content is available under
CC-BY-SA
unless otherwise noted.